Austin was born with less than 10% of his intestine functioning. As a result, he has Short Gut Syndrome. He is dependent on TPN for nutrition and hydration. This requires that he's is hooked up to an IV at least 17 hours a day. There are many serious medical complications associated with Short Gut Syndrome including TPN induced liver failure and sepsis associated central line infections. As a result, the 5 year survival rate is only 20%. Despite all that, the biggest challenge in Austin's eyes is the dietary restrictions. He can't drink water or juice. He can't eat anything with sugar from fruit to deserts. His biggest wish is to be able to eat sweets/ He became very hopeful when we recently learned of some groundbreaking research being conducted by Dr. David Hackam of Children's Hospital of Pittsburgh to create artificial intestines. This research has the potential to benefit thousands of people who suffer from various conditions including Short Gut Syndrome, abdominal injuries, cancers, genetic disorders, and intestinal illnesses such as Crohn's Disease. Austin is hopeful he could one day "have a new tummy" and be able to eat cupcakes like the rest of us!
For his 6th Birthday, he decided he wanted to raise money to help support Dr. Hackam's research and named his fundraising efforts "Austin's Cupcake Fun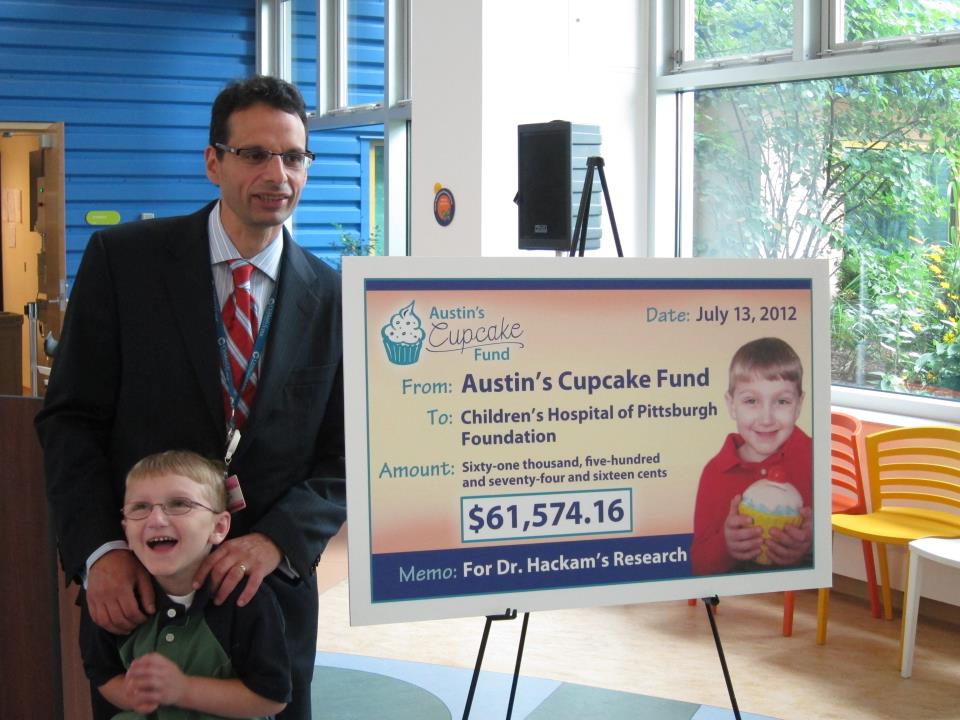 d." He personally presented the check with his donations to Dr. Hackam.
For More Information on Austin's Cupcake Fund please visit:
On Twitter: http://twitter.com/CupcakeFund
On Facebook: http://www.facebook.com/AustinsCupcakeFund?ref=ts&fref=ts#!/AustinsCupcakeFund